We believe that the church has a duty to meet the spiritual and physical needs of its members, especially those who are most disadvantaged in the society just as it was the basis upon which the first century church was built upon. MROLEC reaches out to refugees in their camps, and extends a hand of love and compassion to them.
1John 3:17-18 - But whoso hath this world's good, and seeth his brother have need, and shutteth up his bowels of compassion from him, how dwelleth the love of God in him? My little children let us not love in word, neither in tongue; but in deed and truth.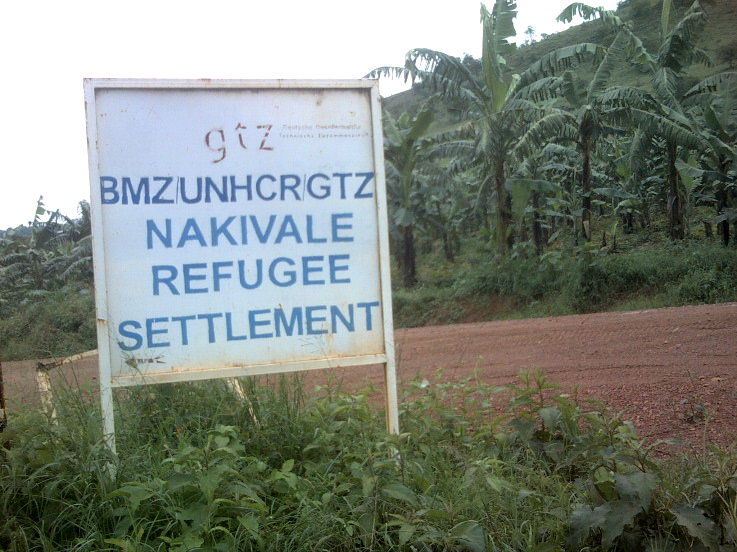 We minister to the refuges in the following ways:

Preaching the practical gospel of love encouraging and exhorting them, so they may be able to comprehend the love of God for them even in their circumstances.

It is in this group of people that you will find people who can hardly believe that God loves and still cares for them however, by the grace of God we have been able to reassure them of their faith in Christ, letting them know it is not in vain, and we have seen this bear fruits of faith, hope, and joy in their lives.
Through discipleship classes, most of them have been fully turned into Disciples of Christ responsible, mature Christian leaders. They have been instrumental in our church planting program in the refuge camps.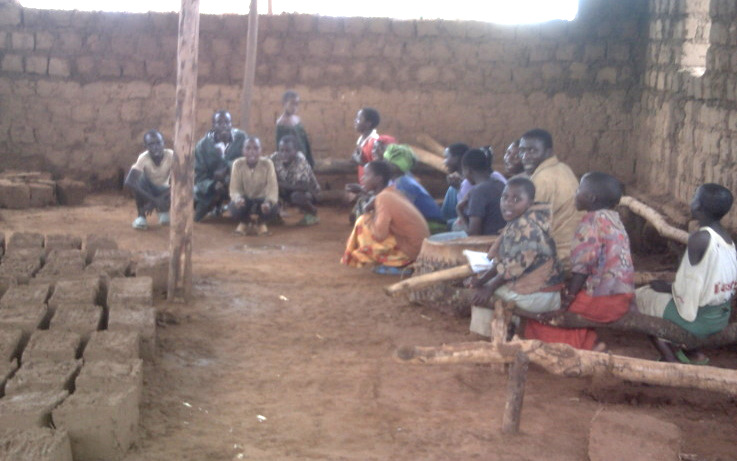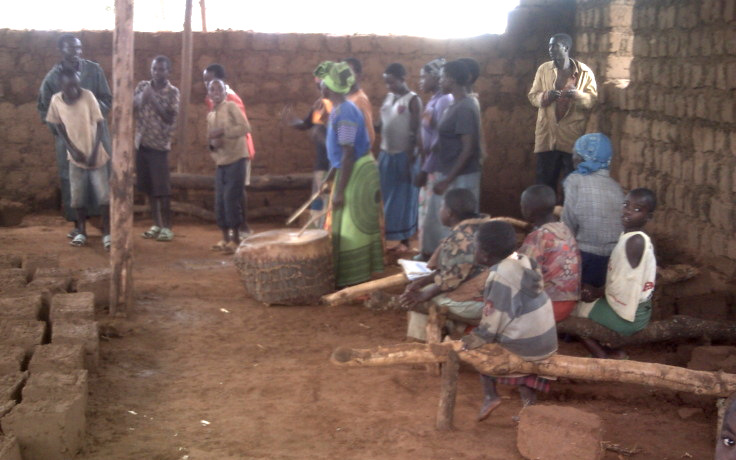 As God continues to supply to our needs, we share with them the good things put to our trust by God e.g. we give them clothing since most of them can hardly get money to buy fabrics for themselves and their families. We also give them food. We give them beans, posho, rice, etc. it is our prayer that God shall touch people's hearts, to extend a hand of charity to our brothers and sisters living in refugee camps. We have also adult education for those who have been deprived of a chance to go to school.

We also have schools for the children in the camps for children at all levels. We thank God the government has allocated two prime lands to us that we may construct schools there. Building and construction of class blocks is underway.
(Project Blocks)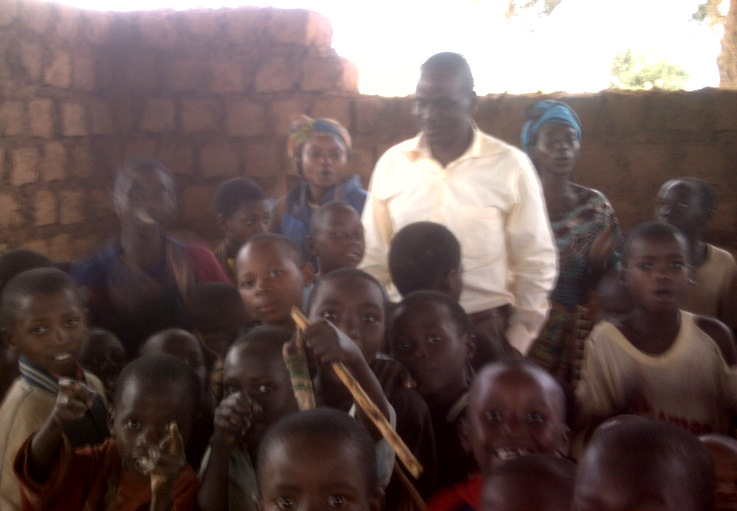 (Pastor Robert reaching

We have also bought and donated 5 milling machines to aide our people in the camps in processing and packing their food produces.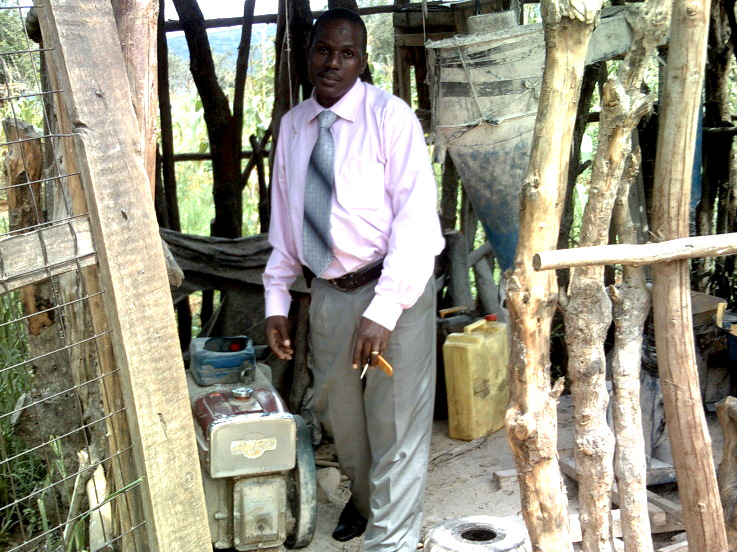 Challenge
1. Most of the refuges are depressed and desperate.

This is due to the fact that they have been forced out of their beloved mother lands due to wars; they have left behind and consequently lost their property, relatives and friends or some family members.

We normally hear tragic stories of how some of them had gone to farm or school, only for the rebels to attack and they run in disarray without going back home, they are not sure of the whereabouts of the rest of the family members or even if they are still living. This is too much for most of them to carry.
So there is need to help them out of their depression and desperation, to give them hope for a better tomorrow. This can be done through practical counseling and guidance; we also need audio and video bibles and bible stories. This is due to the fact that some of these people don't know how to read or write and we need more projectors and generators.
2. There is lack of enough water supplies.

The little that is there is dirty, which is the reason why diseases like birhazia, cholera, typhoid, etc., are common diseases in Nakivale Refuge camp. There is therefore need for us to help our people in these camps to get access to good water by digging bore holes and tapping gravitational water. This will eradicate water-born diseases as indicated above.
3. Shortage of food.

Organizations like World food programme, and many others, including our ministry have joined hands to help out on the issue of food. But when you look at the food ratios assigned per household in the camp, it is too small to sustain the population there. This is the reason why the children in the camps have low immunity deficiency and are malnourished.
This has also been of a negative impact on the lives of the elderly and the adult. They die of simple diseases due to poor feeding and lack of a strong immunity. We as MROLEC are now planning to invest in farming on a large scale, we need 4 square miles of land for farming, we can produce and process the food for the refuges. This will also be a great relief to our brothers in the camps.
Currently, we are involved in small scale farming. We also have 5 milling machines to help us process what we produce for the refuges. However, as indicated above, there is need for large scale farming to solve the problem of food shortage.

"For I was an hungred, and ye gave me meat: I was thirsty, and ye gave me drink: I was a stranger, and ye took me in" Mathew 25:35
4. There are 70000 families living in Nakivale refuge camp currently.

Most of these people are naked or have old and perched clothing. No wonder pneumonia has claimed hundreds of the refuges. MROLEC members have always sacrificed their own fabrics for our brothers and sisters in the camps. However, the number is too big to be sustained by what we can locally offer to them. There is therefore need for other people's contribution of fabrics to help avert the situation.
"I was Naked, and ye clothed me: I was sick, and ye visited me: I was in prison, and ye came unto me." Mathew 25:26


5. We need bibles
- English, Kiswahili, French, Kinyarwanda, versions are most preferable.